Tale 1: A Yarn I Can't Even Understand
I'll admit it. I'm a cheap crocheter. It doesn't mean that I don't spend too much on supplies. It means that I buy LOTS of yarn, too often. But I don't usually buy expensive yarns. It really has everything to do with what I normally make. In my latest incarnation as a crocheter, I mostly make amigurumi style dolls for adults. The hair yarn for these dolls can be expensive, but the actual yarn I use for the dolls is acrylic. It wears well and comes in endless colors. I have skeins and skeins of acrylic worsted weight yarn and very few skeins of anything else. And certainly no fun fur or novelty yarn that isn't useful for my dolls.
Sooo, I'm not sure where this yarn came from --
I found it in my stash at the end of last year, and for the life of me I don't remember buying. I can't imagine what I thought I'd use it for. It is a variegated blue, green and black boucle yarn. The label was missing but I did some research and I am pretty sure it's a skein of Bernat Soft Boucle. I don't have anything against Bernat Soft Boucle, I looked at it at Joann's and there are some really pretty colors out there.
BUT, this green-blue-black yarn is atrocious. The variegation is weird. There's a pukey yellow stripe that looks likes the dyeing went wrong and the blues and greens aren't complimentary. It really is the pitts.
I looked at it and decided that I had to use it for something. I'd spent money on it and I want to be less wasteful. So, I thought, maybe something small? A neckwarmer for a friend (with different aesthetic tastes than my own)...
Side Eye courtesy of the less than stellar yarn.




Okay, so I said that the yarn has other more attractive colorways, and it's true. But I will also say that I don't like working with boucle. It was catchy (and I don't mean a tune). The yarn just wouldn't slip off of either my aluminum or plastic hooks. It took ages to crochet this simple double crochet, mobious neck warmer. I made a similar one (same pattern) with an acrylic blend in under 3 hours. Maybe fun yarn just isn't for me. ...Except for afros for my dolls.
Tale 2: A Yarn I Desire with My Whole Heart - But Have No Use For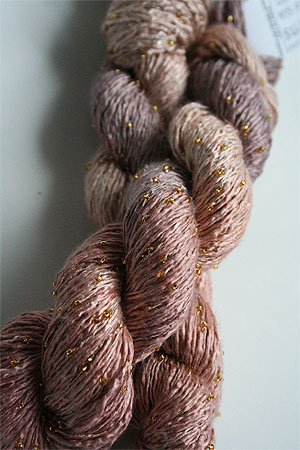 Photo Credit: fabulousyarns.com
Isn't it lovely, friends? I saw it first on a newsgroup when a friend posted about having bought a skein in a different color. This is Artyarns Beaded Silk yarn. I went searching for it and found it
here
. A shiny, delicate silk yarn with little gold beads woven in. I can only imagine how wonderful it feels.
Oh, what marvelous things I could make with it!
D'oh! That's just it. I have no clue what I would make with this yarn. It's beautiful. It moves me. But I have no idea what I would crochet with it. A thin, impossibly long scarf, maybe?
There's a drawback to my one idea of what to use this exquiste fiber is that the material costs, get this, $44 a hank!!! Let's say I could make my fabo-long, couture worthy scarf with just 3 (unlikely, but humor me) --- that's $132!
Now, some of you fashionistas may have the means and the desire to buy or make a $132 scarf, but in spite of media coverage to the contrary, college professors don't really have that kind of money!
But, if I did, I can't lie...I'd have this yarn in my hand right now, instead of typing this post. :)
Next time:I'll keep with the meme of the week and talk about my progress with hooks and needles.
Until then,
Peas and Carrots -
~Dee